Reset & Rejuvenate - 3rd - 8th February 2019
It's time to escape, to recharge, to have an adventure. Start 2019 off the right way!
This February, join Jessica for 5 nights of sheer bliss and rejuvenation on the coast of the Indian ocean. Get away from the pressures of daily life, and immerse yourself in wellness with daily yoga and meditation practices.
Location: Kuruwitu Beach, Vipingo
The location of our Reset & Rejuvenate retreat is Vipingo, on Kenya's East African coast. The newly renovated house is located on its own, private stretch of white sand Kuruwitu beach, and the sound of rolling waves can be heard from every corner of the house. Just a 1 hour drive from the vibrant and historic trading city of Mombasa, Vipingo is the perfect location to escape for a week. The house is nestled into a secluded corner of the coast line, and is about as tranquil as life can get. Its stunning interiors elegantly combine classic African architecture and design, with a modern, effortless twist, and is surrounded by lush, green vegetation.
Aside from the beautiful daily yoga and meditation practices, there will be snorkelling trips to Kuruwitu Beach's marine park, where its coral reef is regenerating at a remarkable pace, in-house massages, deliciously fresh local cuisine, and glass-bottom boat trips. Should you wish to, a visit can be arranged to bustling Mombasa, to sample fresh seafood, haggle for spices in the market, purchase local craftwork and visit Fort Jesus, a UNESCO world heritage site.
At the house itself, you can spend your free time soaking up the sun by the private pool, swimming in the crystal turquoise sea, strolling along the miles of beach or reading a book on your own veranda. During the day you may wander down The Beach Bar for a tasty lunch with your feet in the sand. You might even be lucky enough to see wild turtles and dolphins!
See more images of the house and local area below: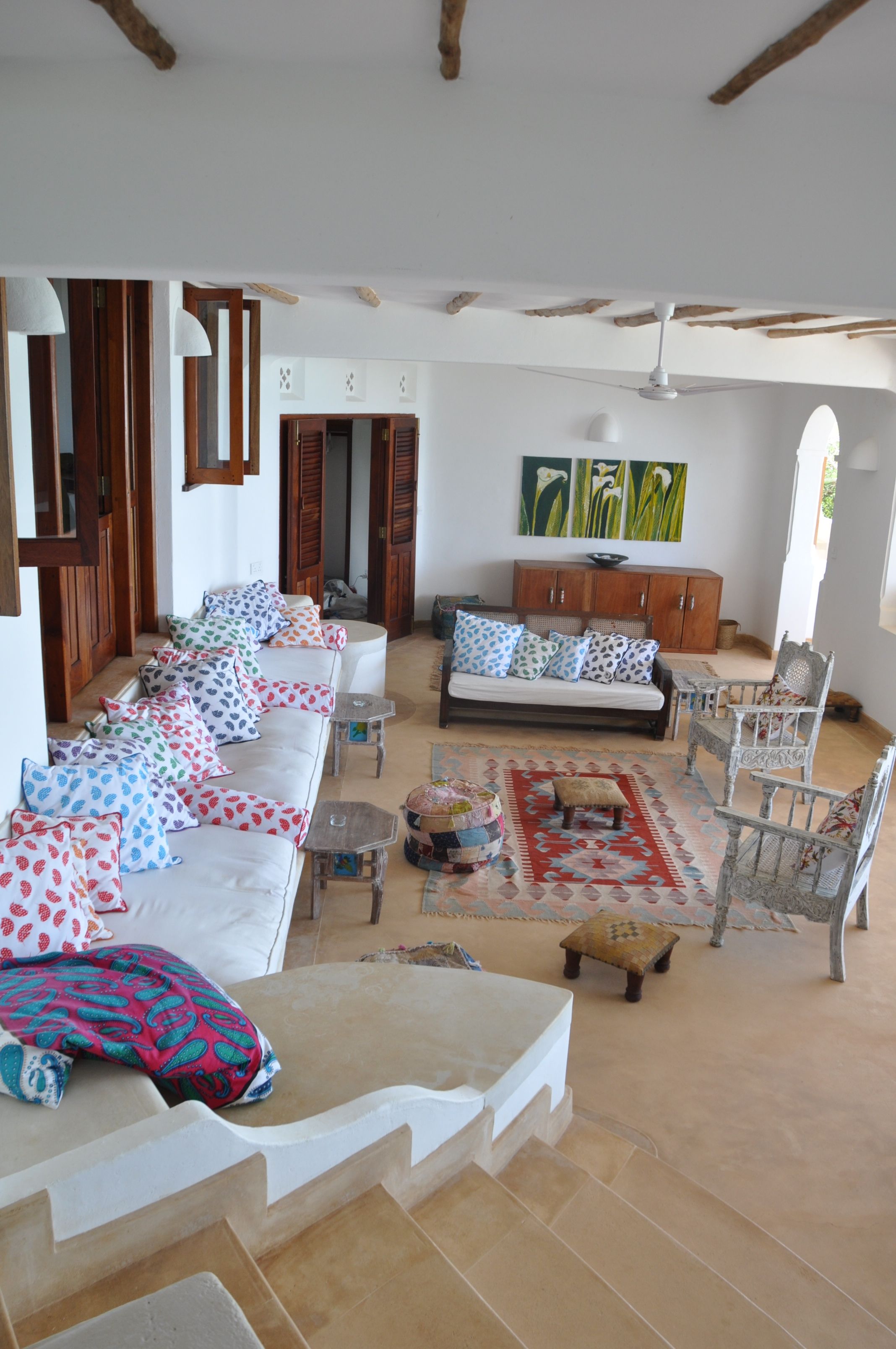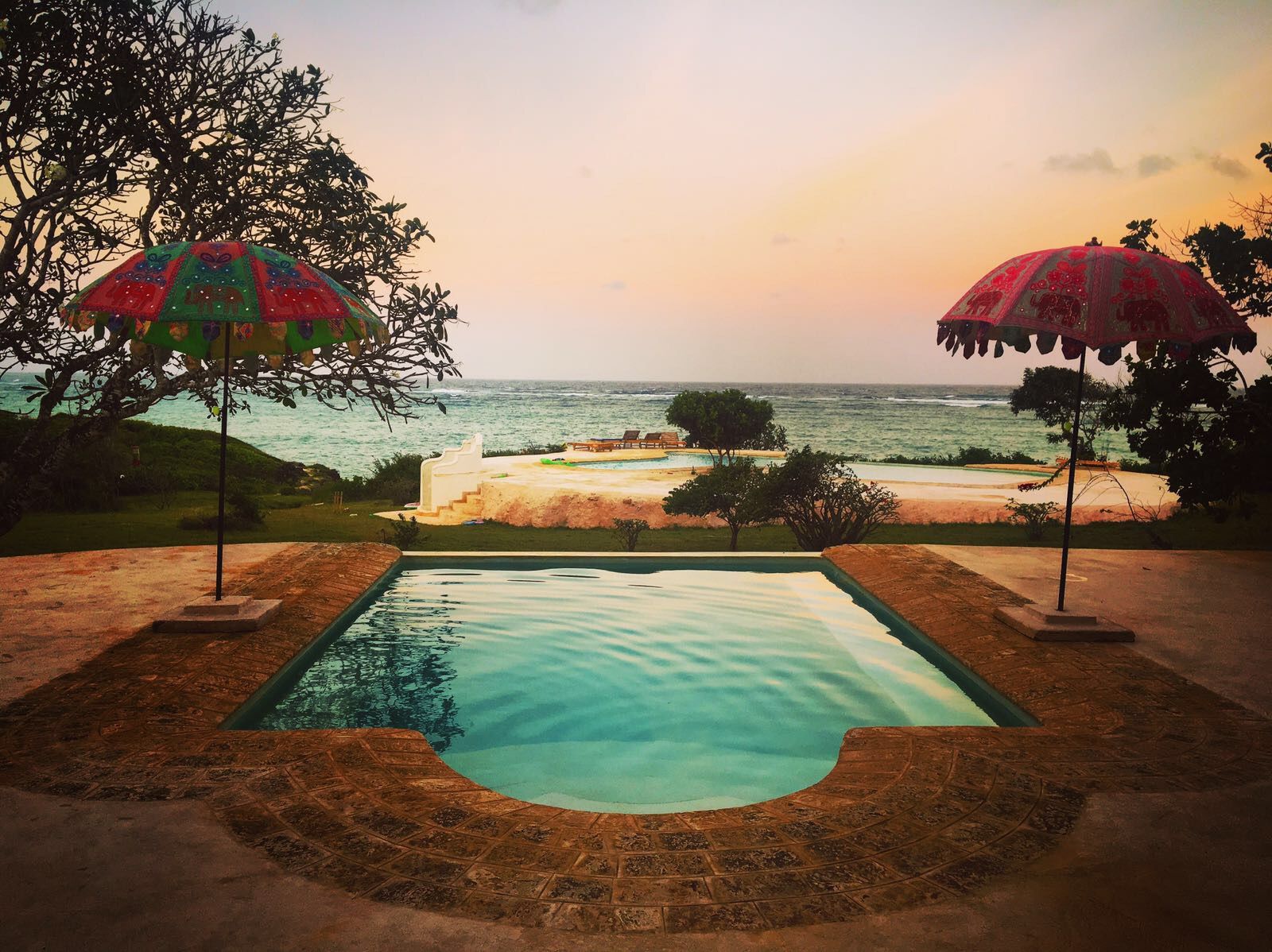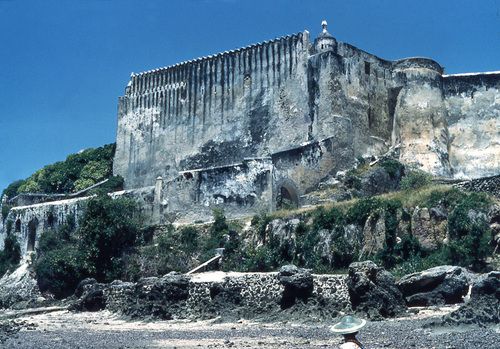 The Team:
Yoga & Meditation Teacher: Jessica Hull
An adventurer at heart, Jessica is one of the most exciting, young yoga teachers in London right now. Originally doing an Ashtanga teacher training in Mysore, India, her style has gone on to incorporate more elements of vinyassa flow into her sessions. She is also a passionate mindfulness and meditation teacher and all of these influences weave their way into her sessions, resulting in an experience that opens your mind, body and soul. She expertly holds the space for her students as she guides them through breathing exercises, meditation and mindfulness practices and a physical asana flow with plenty of humour and compassion. Whilst grounding her teaching in the ancient wisdom of yogic practices, she is constantly reexamining traditions and tailoring her knowledge to the modern yogi.
Host: Tessa
Tessa, a Nairobi local, and mistress of the house, will be on hand to answer any queries or questions you may have about the local area. She has been visiting the area with her family for decades and knows all the insider's tips. She will be managing the household and kitchen, and making sure that everything runs smoothly. Always full of energy and fun, Tessa lights up the group and will make sure that everyone is well looked after and well fed.
Food:
Tessa and Jessica have co-created a menu that is sure to delight all of your senses. With Tessa's knowledge of local cuisine and Jessica's passion for delicious and nutritious dishes, you definitely won't be going hungry. Only using seasonal goods, all of the produce served is local and fresh, and will leave you feeling healthy and vibrant!
There will be fresh curries, grilled fish and wonderful local sea food, ripe fruit and refreshing salads. Is your tummy rumbling yet?
On the final evening of the retreat you will be treated to a magical beach BBQ whilst the sunsets, leaving you to enjoy your meal under a vast blanket of twinkling stars.
Yoga & Meditation
No experience of yoga or meditation is necessary. Jessica will expertly guide you through the practices, offering variations and adjustments for every level. The morning class will be an invigorating vinyassa flow, followed by a guided meditation to help you feel grounded and clear-minded for the day ahead. In the before supper, we will have a relaxing, sunset yin yoga class and then just before bedtime there will be a magical, candlelit yoga nidra to make sure that you get the best possible night's rest.
Retreat Schedule:
07:30 - 08:00 Herbal teas & fresh juices
08:00 - 10:00 Dynamic yoga flow and guided meditation
10:00 - 11:00 Buffet brunch
11:00 - 16:00 Treatments, free time, activities
16:00 - 17:30 Yin Yoga
19:00 - 20:30 Dinner
21:00 - 21:30 Guided Yoga Nidra
Included:
All food & drink on site
5 nights luxury accommodation
Full access to all facilities at Vipingo House
1 hour massage treatment
Beach BBQ on final evening
Snorkelling trip & equipment
Wifi

Not Included:
Flights
Transfers (these can easily be arranged)
Excursions to Mombasa etc.
Travel:
There are regular flights into the closest airport, Mombasa (MSA), and it is 1 hour drive from the house. Transfers can easily be arranged at an extra cost. You can also get the train from Nairobi to Mariakani which 1.5 hours to the house. Check-in is from 16:00.
Prices:
Main house:
Master Double Ensuite (private balcony):
Single occupancy - £1,500

Double occupancy - £1000pp
Double Ensuite (private balcony):
Single occupancy - £1,400

Double occupancy - £850pp
Double Ensuite:
Single occupancy - £1,200

Double occupancy - £800pp
Twin Ensuite:
Single occupancy - £1,100

Double occupancy - £750pp
Cottage (all bathrooms shared)
Single - £500pp - Sold out
For more information email Jessica: jessica@jlhyoga.com.